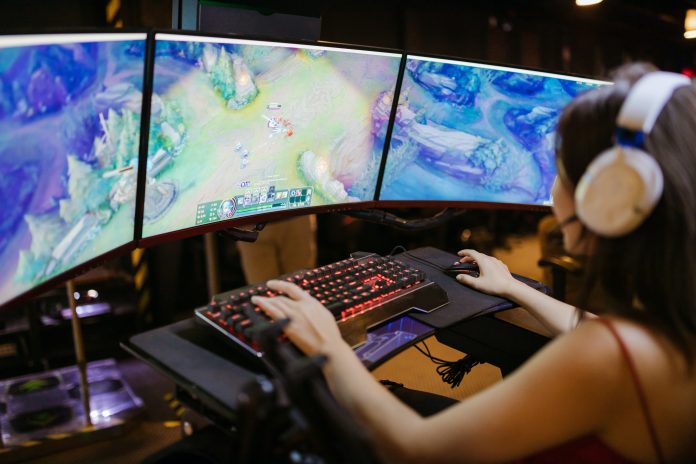 We've come a long way from playing Ridge Racer on our PlayStation to waiting like maniacs to buy the next big thing. Video games have always been that enjoyable escape from reality for which we pay hundreds of dollars each month. The surge in the popularity of popular games across multiple platforms has only increased more due to people staying home for most of the year. Let's face it, with almost the entire world glued to their couches and screens, no wonder 2021 proved to be a golden year for games. The gaming scenario in 2021 has been quite personal for many as FIFA and Call of Duty may have helped people find their solace amidst all the chaos.
If you are looking for a game to play with your friends. You have tried many games, but you are not satisfied with any of them.
Infinity angel is a fun and addictive multiplayer game that you can play with your friends!
Hundreds and thousands of cheap remakes to high-end sequels were released this year. Big names like Psychonauts 2, Ratchet and Clank, Super Mario 3D World hit the console scene with a bang. Sony's latest console, the PS5, has managed to put up an exciting lineup of popular games consisting of a rather diverse range, including some exclusive PS5 launch games, sprawling RPGs, and more. Xbox and Switch aren't far behind as well, with the likes of Grand Theft Auto: The Trilogy, Call of Duty: Vanguard, and Stars Wars hitting the gaming scene in November.
We know you are super psyched about all the games, but it is nearly impossible to decide which ones to go for first. That's why we've saved you the hassle and done all the hard work for you. We've chosen the following top 6 popular games from hundreds of top-class games that are a must-have this year.
1. Assassin's Creed Valhalla:
Genre: Action/RPG
Platforms: Xbox Series X|S / Xbox One
Price: Standard edition ($59.99), ultimate edition ($119.99)
Game Description:
Take a step towards a quest for glory and become a legendary Viking in Assassin's Creed Valhalla. The game is focused on growing your settlement by leading epic Viking raids using dual-wield weapons against Saxon fortresses and troops. Explore England's Dark Age and build your political power by taking down enemies in the ruthless Viking fighting style.
Review:
Valhalla engages the player in storylines, personal choices, and experiences better than its predecessor. The theme and concepts are phenomenal, offering excellent continuity as you move and unlock new quests. The game offers a fresh take on the series' established quest systems with its larger-than-life and rugged visuals. We give it an 8.5 out of 10.
2. Red Dead Redemptions 2:
Genre: Open-world, action, adventure
Platforms: Microsoft Windows, Xbox One, PlayStation 4, Google Stadia
Price: Standard edition ($44.99), ultimate edition ($74.99)
Game description:
The game follows the story of the dying days of the wild west. Arthur Morgan and the Van der Linde gang are on the run with the best bounty hunters and federal agents on their heels. The gang must survive their way across the rugged heartland of America by stealing, robbing, and eventually fighting their way out. This massive, richly detailed world will allow you to experience the boundaries of interactive immersion with thrilling action sequences, excellent performances, and exciting storytelling.
Review:
What do you expect from a multiple award-winning and one of the most popular games in the world? The detail is impeccable and dramatic. You can marvel at how Rockstar created an unparalleled image of the old west. For many, the game is a masterpiece which is not an overstatement. The game offers countless options for players to express themselves in the open world with a slow burn that RDR 2 is. We give it a 9 out of 10.
3. Resident Evil 8: Village
Genre: Survival, action, adventure
Platforms: Xbox one, PlayStation5, PC, PlayStation 4, Xbox Series
Price: Standard edition ($59.99), deluxe edition ($69.99)
Game description:
Resident Evil Village is the eighth primary entry in the world's most famous horror/survival game series. Experience new horrors in Resident Evil's latest entry which takes place four years after Resident Evil 7. Ethan Winters, the protagonist of the seventh edition, attempts to start fresh with his wife Mia and child after the horrors they have experienced. However, things take a gruesome turn when his wife is shot, and his son kidnapped while Chris Redfield reappears to throw him in a spiral of new nightmares.
Review:
The latest installment of the zombie/horror fest is one of the better ones from the series. It is truly a next-generation experience with distinctive detailing and storytelling. Even though the plot delivery is a bit whimsy here and there, it is definitely a win for this genre lovers. We give it an 8.5 out of 10.
4. Mortal Kombat 11:
Genre: Fighting, action, 2D
Platforms: Xbox One, PlayStation 4, 5, Google Stadia, Microsoft windows, Xbox series X
Price: Standard edition ($49.99), ultimate edition ($59.99)
Game Description:
The epic saga of the Mortal Kombat universe continues with this next-generation installment. The game is about a new time-bending narrative that brings Raidan headfirst against the Keeper of Time, Kronika. Choose iconic characters from past and present for a race against time to stop Kronika from rebooting history. It is an epic battle to save all of existence before the Keeper of Time rewinds time and destroys everyone's past, present, and future.
Review:
Arguably, one of the most loved and popular games of all time, Mortal Kombat 11 is back with a bang with more violence and characters. Mortal Kombat has received unconditional love from players since its inception, and this installment is no different. The rooster is attractive and beefed up, while the visuals will give you a superb fighting experience. Mortal Kombat gets an 8.8 out of 10.
5. Spider-man Miles Morales:
Genre: Open-world, action, adventure
Platforms: PlayStation 4, PlayStation 5
Price: Standard edition ($49.99), ultimate edition ($69.99)
Game Description:
Play along to a solid addition to the spider-verse and enjoy the latest adventures of Miles Morales as he masters his new powers. Miles finds his footing as a solo hero as the story takes place not long after the original game. The game follows into the clever storytelling of discovering his way around as the only webslinger in New York after Peter goes on vacation.
Review:
The takeaway here is the solid storytelling that lives up to Marvel's Spiderman with more compelling characters and challenging gameplay. You can still capture the joy of being a web-slinger and the next-generation open-world experience that makes it fun to be spiderman. We'll give it an 8 out of 10.
6. The last of us Part 2:
Genre: Survival, action, general, adventure
Platforms: PlayStation 4
Price: standard edition ($39.99)
Game Description:
The story takes place five years after Ellie and Joel's gruesome journey across the post-apocalyptic U.S. The couple is settled in Jackson, Wyoming living peacefully with a community of survivors. However, a violent event disturbs the thriving community's peace which causes Ellie to go on a journey to find closure and eventually carry out justice.
Review:
The gameplay is fun, flowing, and exciting but what grabs your attention is the Hollywood-style storytelling. The detailing and creativity are epic, while the gameplay hasn't changed much. Still, it is an exceptionally well-crafted game with loads of action and violence. We'll give it a 9.3 out of 10.
Honorable Mentions:
That's a wrap on your top popular games this year, but we still have some space for honorable mention. Don't forget to check out the following trendy games as well:
Death loop
Super Mario 3D World
Monster Hunter Rise
Fortnite
Apex Legends
Dota 2
Conclusion:
Video games will always remain an integral part of our past times and the unfathomable boredom that plagued us this year. 2021 is many things and all for the wrong reasons, but it was and still is a gold mine for some of the most popular games played. So, grab your console and embark on hours of mind-blogging gameplays and stories.