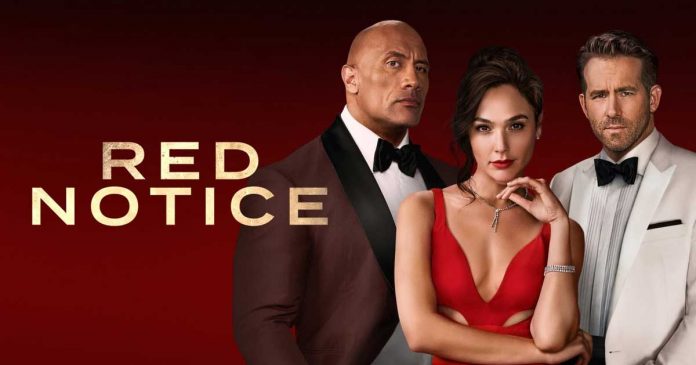 Another Ryan Reynold starrer, another action movie with little to no touch to reality, and another Hollywood blockbuster that worked the "formula." That's right; there's this action movie formula that's been working its magic for decades in Hollywood. Add a sexy female lead, a hunk male lead with an even hunkier co-star who would probably try to betray you in the end, and a whole lot of prison breaks and heists. Red Notice has all of those traditional Hollywood action movie elements, but it still fell short. There's no doubt it was entertaining, and Ryan is a charmer when it comes to comedy, but the entire movie lacked personality. There's hardly any point where you can go, "Oh, if it were me that could have gone so wrong." Along with the Red Notice review, you can also check out the movie trailer below:
Red Notice is Rawson Marshal Thurber's latest action cum comedy film that has a star-studded cast. The movie follows the story of an FBI profiler Johnson Hartley played by the dashing Dwayne Johnson, who is out and about to catch a world-class art thief *drum roll* Ryan Reynolds. Nolan Booth, played by Ryan Reynolds, is a sleek thief who wants to steal Cleopatra's legendary three golden eggs. Whoever brings all three eggs as a gift for an Egyptian billionaire's daughter will receive nothing short of $300 million. That's the same billionaire whose daughter is more enchanted by Ed Sheeran than the eggs the whole movie is based on.
Let's get something clear in our unbiased Red Notice review that we love Ryan, especially when he's passing witty comments in his fast-talking obnoxious tone. But is he going to play that same personality forever? The same is said for Dwayne Johnson, who can't seem to escape the "I must clear my name" or "I'm going to catch the bad guy" character. Gal, on the other hand, plays another famed con-woman; the Bishop is beautiful as ever but lacks timing.
Writing the Red Notice review, we can conclude that the biggest problem with the film is that all three leading stars are playing the parts they have always played. Gal, the hot warrior with an accent, Dwayne, the big, good cop, and Reynold, the narcissistic funny guy. Instead of working as a team, they seem to be acting in their movies within a movie. The thing about action/heist movies these days is that they lack a human element that automatically makes the actors' performances routine. There's a trend going on for heist movies *La casa de Papel plays in the background* but do you ever wonder why they fall short every time?
Money Heist has a lot of personalities and human elements than we give it credit for. Sure, there are guns and bombs and whatnot, but people also die, get injured, and even screw up an excellent plan. In almost every Red Notice review, you'll see experts hating on the same old classic Tom cruise/spy movie elements; fancy gadgets, smooth pickpocketing, and nobody noticing you speaking over the comms.
Don't get me wrong; the movie wasn't entirely a lost cause. There were a few entertaining scenes like Gal channeling her inner Wonder Woman when stealing the third egg from the vault of an arms dealer. Or the final twist, which was better than the entire movie. All in all, a star-studded cast like that who has carried entire franchises on their own should explore more about the characters they are playing. There's no hate against such movies, but why not take inspiration from classics like The Speed, Indiana Jones, and even the first few Mission Impossible movies, which explore characters and a storyline? After reading this Red Notice review, you may be compelled to miss it, but we'd still give it a 3 out of 5. You can either skip it or go for it if you've seen all of Netflix's content. Red Notice is out now and available on Netflix.