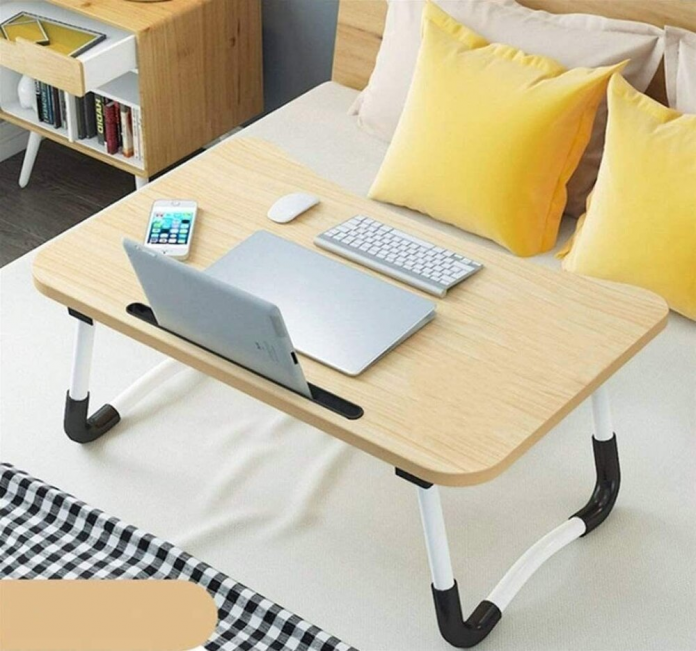 With most of the world working from home amidst the current pandemic, most of us have taken the liberty to transform some corner of our house into a home office. However, with everyone working from home, the space is limited, and we have to work with what we've got. That's where products like foldable bed trays turned out to be handy. So whether you are simply having breakfast in bed or working while having breakfast, a foldable bed tray offers convenience for many tasks. At one instance, it can become a portable office desk for your laptop, and the other it can be a bed tray, a study table, a drawing table and what not! Foldable bed trays are also great for increasing your productivity. You can eliminate loads of distractions such as going for meals, finding your things or quickly moving here and there if you need to transition.
Top 3 Foldable Bed Trays You Should Buy Today:
Neeto Adjustable Laptop Table:
Description:
When you want an "all in one" foldable bed tray, this is the product you go for. The Neeto adjustable tray is a multifunctional bed table that works on your desired height and angle. The surface is flexible up to 35-degrees for a healthy view. At the same time, collapsible legs make it easy to carry anywhere you want. You can work it on the bed, the couch, the table, and even the floor. When you are not using it as a standing desk for your work, you can enjoy a delicious meal on it in bed.
Price:
The foldable bed tray is available for $50.
Review:
The best thing about this tray is its versatility. It is comfortable, adjustable, portable, and offers the exact position you need to work comfortably. Its adjustable height, angle, and lightweight are the winners.
Widousy Laptop Bed Tray Table:
Description:
What's so great about this foldable bed tray? It looks classy, offers excellent functionality, and comes with an incredibly versatile design. It is a sturdy, ergonomic tabletop with foldable, anti-slip legs and requires no assembly. It is easy-to-use and can work as a mini writing table, laptop workstation, standing table, laptop couch table, and a modernly designed breakfast table. The table also comes with an indent handy for use as a tablet or smartphone stand.
Price:
It is available for $62.99
Review:
The best thing about the Widousy foldable bed tray is its classic design that looks simple but offers all the functions you need. Its non-slip covering on the legs is great for preventing slipping or unwanted movement. It works in every setting and from professional to personal.
Bamboo Laptop Desk:
Description:
If you are a fan of the classic breakfast in bed wooden trays, this product is for you. This foldable bed tray works wonderfully as a workstation and a beautiful breakfast in bed tray. The tray comes with a range of adjustable heights, ventilation holes for heat dissipation, an anti-slip baffle, and an anti-collision desk horn. It is made of high-quality bamboo that is durable, sturdy, and tough and offers a wide range of applications. It works as a great breakfast tray, study table for kids, reading desk, laptop station, and more.
Price:
This fantastic product is available for $34.99.
Review:
The Bamboo foldable bed tray is the perfect option for people who love the wooden tray design. It comes with an adjustable magnetic surface and offers plenty of angles to work with. The built-in drawer comes in handy for storing essentials, while the natural construction looks exceptionally appealing.
Benefits of foldable bed tray:
They are portable and compact
They are used for multiple purposes, from working to enjoying meals
They are adjustable, adaptable, and durable
They are great for in-house offices
Conclusion:
Foldable bed trays are highly functional, from helping you manage your work from bed to eating breakfast in bed as well. Not just in bed, but these foldable trays can be carried anywhere you like and can instantly turn into a picnic tray from a fully functional workstation. When choosing the best foldable bed tray, consider the size, functionality, and material of the product.