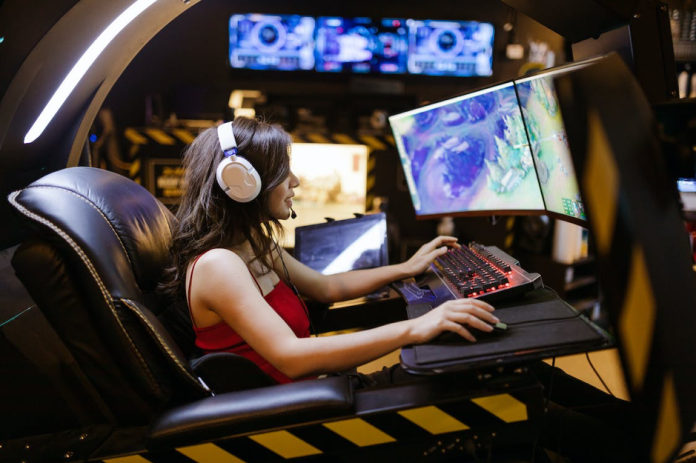 Alienware is one of the most renowned PC gaming brands in the world. They have a reputation for producing high-quality products, and the latest addition to their portfolio, the Alienware Aurora 2019, is considered one of the best gaming desktops in the world.
Aurora should be at the top of your list of alternatives if you are a PC gamer looking for good gaming desktops. Its seamless and modern design, outstanding performance, and value for money have helped it stand out among gamers worldwide.
Here are the top six things that you should know about the Alienware Aurora 2019:
Specifications of the Alienware Aurora 2019
The Alienware Aurora 2019 is one of the most high-performance gaming desktops that exist to date. It has a 9th Generation Intel Core i7 9700 processor with an NVIDIA GeForce RTX 2070 Graphics Coprocessor. It comes with 16GB RAM, 512 GB SSD, and 1 TB HDD storage.
It is a desktop computer and can be upgraded according to your preferences. It comes with a mouse and a standard keyboard. Moreover, it also has an Alienware Control Center that helps to monitor the cooling, fan settings, and lighting of your system's hardware. All in all, it is a serious gamer's dream come true.
Due to Aurora's Intel Core i7-9700K 3.6GHz 8-Core Processor, it is capable of running heavy-duty games very smoothly and efficiently. Its 16 GM RAM, which can easily be upgraded, also ensures gamers a high-quality gaming experience.
Performance of Aurora
Alienware Aurora 2019 is a gaming powerhouse that makes your gaming experience smoother and more fun. Its Intel Core i7 Processor and NVIDIA GeForce RTX graphics card make gaming even more interactive.
The Aurora has a dual graphics setup that ensures that even if you play a heavy-duty game, you enjoy it with ultra-high settings and an efficient frame rate. Aurora has a 4K resolution that pulls you in and vividly displays everything!
Ports Layout of the PC
A light ring is lined up with all the front panel ports on the Aurora. This light ring is glittery and highlights the ports. All of them are vertically aligned with the computer. It has one USB-C port, two standard headphone jacks, and two USB 3.1 ports.
Its PC has secondary USB-C connectors, five USB 2.0 ports, four USB 3.1 ports, audio lines, a DisplayPort connection, Ethernet socket, amongst other usual connectors. This optimizes the experience for gamers and makes Aurora a popular choice.
Unique Look and Aesthetic of the Aurora
When organizations design PCs, they usually focus on functionality and efficiency. Style and aesthetics are often secondary on their priority list. Well, this surely isn't the case for the Alienware Aurora 2019.
Alienware understands that you will be using your PC for quite a long time. Hence, the more visually appealing it'll be, the more satisfied and happier you'll feel. The Aurora is a gorgeous gaming PC; it is elegant and classy and is housed in brushed glass and metal. Its modern finish makes it look like a tech giant like Samsung or Apple might have designed it.
Price Of the Alienware Aurora 2019
You'll find gaming PCs with even a basic configuration expensive. It isn't a shocker. Good gaming PCs range from $900 to $2500 and more. However, you can get an excellent gaming PC for around $2000.
It might initially seem like too much, but once you do a cost-benefit analysis and see that the Aurora is a lot more reliable investment than a cheaper PC, you'll be more than willing to spend your money. Its outstanding performance, unique design, and beautiful look set it apart.
Gaming Display Options for the Aurora 2019
The Alienware Aurora has a gorgeous 55-inch UHD gaming display that sets it apart from other gaming PCs. The monitor is carefully engineered with a 120 Hz screen refresh rate and 0.5 millisecond reaction time. You will have an elite gaming experience without a hitch.
It also has a 98.5% DCI-P3 color gamut coverage with lower input latency and AMD Radeon FreeSync to decrease the chances of frame rip and interpolation. The Alienware computer also has a remote control for added commands, ambient LED illumination, on-screen control panel access, built-in speakers, etc.
FAQs
Does Alienware Aurora 2019 have liquid cooling?
Alienware Aurora 2019 has Asetek liquid cooling that enables it to efficiently and quietly draw heat from high-performance processors.
Is the Aurora 2019 a good choice?
The Alienware Aurora 2019 is a great choice if you are an avid gamer. It provides you with a high-quality and superior gaming experience.
Is the Alienware Aurora 2019 customizable?
All Alienware products can be customized and upgraded according to user preferences.
Final Thoughts
The Alienware Aurora 2019 is an extraordinary gaming masterpiece. It is undoubtedly one of the most desirable and powerful gaming computers today.
Overall, the Aurora is a modern gaming desktop with a versatile design that makes it an aesthetic and good addition to a living space. It provides a unique user experience.