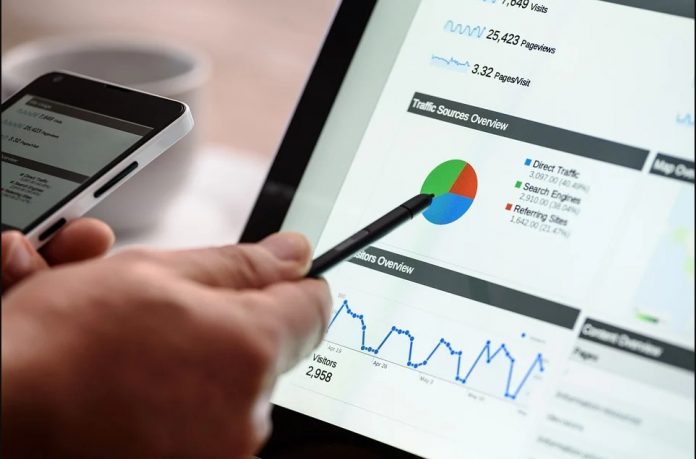 Have you ever entered a shop and received a personalized greeting? The salesperson recalls your name and your most recent transaction! You should always strive to provide your clients and consumers with this personalized experience. The objective of analysis – web and digital marketing – is to provide your customers a level of connection when they perform business with you. You can collect, process, and analyze information from any website via Web analytics. Whereas any online technology that collects and interprets data from online marketing activities is known as digital marketing analytics. And, the designated tasks are carried out by the Digital Marketing analyst of the company.
Digital Marketing
In simple terms, digital marketing is advertising performed utilizing online platforms like Google search, webpages, social networking sites, emails, and phone applications. Digital marketing refers to the process by which businesses use online social media to advertise their products, services, and brand name. When it comes to product research, consumers rely largely on internet tools. According to digital marketing statistics, after seeing a related ad, 91% of phone users bought a product, and with digital advertising, businesses have increased brand lift by 31%.
Digital marketing helps to target a bigger audience than traditional marketing does and target the most likely customers to purchase your product or service. More often than conventional advertising, it is more cost-effective, allowing you to monitor progress daily. You'll be able to realize your company's growth opportunities the more you embrace the opportunities of digital marketing. This implies that every business should hire a digital marketing analyst who can assess the company's performance and recommend effective marketing strategies.
What Is A Digital Marketing Analyst?
A digital marketing analyst has to support the company in making its decision on its target markets. They advise managers on whether pursuing a particular niche is a bright idea, and they assist the marketing team in determining how to outsmart competitors. They also have to do customer-related research, analyze the company's digital presence. What it means is to analyze different campaigns, discuss the findings with higher authorities. Other than that, organize or create new campaigns and monitor ongoing and previous projects for digital marketing.
Digital Marketing analysts collect data about consumer demographics, interests, and purchasing patterns using many approaches, including polls, surveys, or group discussions. Analysts also assist businesses in understanding their market dominance by investigating competitors and their strategies. They also examine digital marketing trends, e.g., PPC (Pay Per Click) advertising, emails marketing. And how they relate to business objectives. Then, to produce campaign success, boosting digital presence, and generating ROI, they establish growth strategies, evaluate new campaign targets, and roll out improved marketing programs. Digital marketing analysts must remain at the forefront of the industry and employ a wide variety of tools and programs. To test, create and implement new ideas and practices to achieve success in the digital marketing sector.
A survey of 500 data professionals in the United States in 2020 was carried out. Individuals questioned how the COVID-19 incident affected their usage of data analytics. "Analytics are more or much more significant than ever before," according to 49% of those polled.
Covid-19 and Digital Marketing Analyst
The unexpected emergence of the COVID-19 pandemic caught most of the world off guard in a society where face-to-face contact was a normal way of life. Everything thing changed all of a sudden and without notice. Businesses who traditionally relied on in-person availability via trade exhibitions, in-person interactions were introduced to a new challenge: evolve or fail. Many companies were now searching for a different, COVID-safe strategy to engage their audiences with their former lines of communication either completely cut off or changed considerably. Many organizations who had never imagined entering the digital marketing arena were forced to run to construct e-commerce platforms, digital marketing, and build sophisticated websites almost overnight.
You need to know what your firm is entering into if you are an owner or entrepreneur. For that reason, data analysts have grown increasingly, more crucial in a changing digital world post-Covid-19 with a wider diversity of platforms and technologies for organizations to reach their customers better.
Companies need to have the information to support the company's objective and determine the most effective strategy to meet those objectives. For that reason, companies need a digital marketing analyst. The Bureau of Labor Statistics estimates that jobs for marketing analysts will expand much faster by 18% between 2019 to 2029. The predicted increase in marketing analyst positions is owing to the broad use of analytics across all industries, necessitating a greater need to measure and evaluate marketing departments' performance and impact on company objectives.
Digital Marketing Analysts Are Vital For Marketing Firms
Without a doubt, the use of corporate data analytics will increase in 2021. But why is that? "The pandemic serves as a wake-up call for firms that have been hesitant to adopt digitalization and now find themselves unprepared." When it comes to digital innovation, speed is the right approach, but it may also lead to mistakes." A marketing data analyst can assist companies in avoiding costly blunders while deploying new technology quickly. Here are some of the primary reasons why every marketing organization needs a digital marketing analyst.
Analyzing Marketing Platforms
Businesses require a digital marketing analyst to examine and forecast the profitability of each digital platform that will be used, for example, would it be more effective to place an ad on Google, Instagram, or Facebook? What types of content are the most beneficial for each product? The marketing analyst can assist in directing the marketing strategy in the following ways: Companies will be motivated to invest extensively if the channel/marketing approach is demonstrating a return on investment. In the same way, corporations must change the budget allocation if the channel/method is not beneficial.
Presenting Data-Driven Insights and Reports
The majority of CEOs do not have time to go through statistics or listen to detailed reports. They should, however, have access to market research, expansion prospects, and critical success factors. It is when the Digital Marketing Analyst enters the picture. After compiling their analysis, and interpreting the data, the analyst will assemble their findings into significant reports. Marketing analysts have the ability to not only develop understandable information but also to deliver that information in a way that senior management can understand. They can comprehend the most crucial data and use graphs and charts, new digital software, and other communication techniques to lead with that data. Lastly, Marketing Analysts use their results to deliver practical marketing insights and suggestions.
Generating Competitor/SWOT Analysis
Marketing analysts also conduct competitive research/SWOT analysis. They'll figure out where your competition is in the market, what they're charging, and what marketing methods they're employing, and then utilize that information to help you develop your approach. They assist in determining who the company's true competitors are and ensuring that all costs and benefits are calculated. A Digital Marketing Analyst analyzes competitors' websites to assess pricing, promotional strategies, and statistics about specific items. They also endeavor to analyze your competitors' share in the market, provide competitive data to your sales staff, and keep track of competitor moves that could potentially ruin your firm.
Designing a Marketing Strategy
Lastly, it is the job of the Digital Marketing Analyst place a strong emphasis on building your marketing plan based on their research. To accomplish this, the marketing analyst will frequently collaborate with marketing directors or CMOS. An analyst wears many hats in this regard, as they must communicate with executives, establish strategies, cooperate with the sales and marketing department, and perform research work. As the pandemic unfolds, Digital Marketing data analysts are utilizing data in many different ways to help enterprises. One way is to use historical data to forecast company outcomes rather than simply reacting to the current situation. According to a recent study, 45 percent of organizations are actively using pre-pandemic statistics to anticipate future events in their reaction to the deadly virus.
The Takeaway
A Digital Marketing Analyst gathers information and takes action based on it. This, in turn, results in higher performance levels by adjusting current approaches and developing new marketing initiatives with the team, ultimately serving customers better. In general, marketing analysts research data to assist their firm and team in making educated strategic decisions and optimizing operations. Marketing analysts can contribute significantly to the health and prosperity of a successful marketing team if used properly.