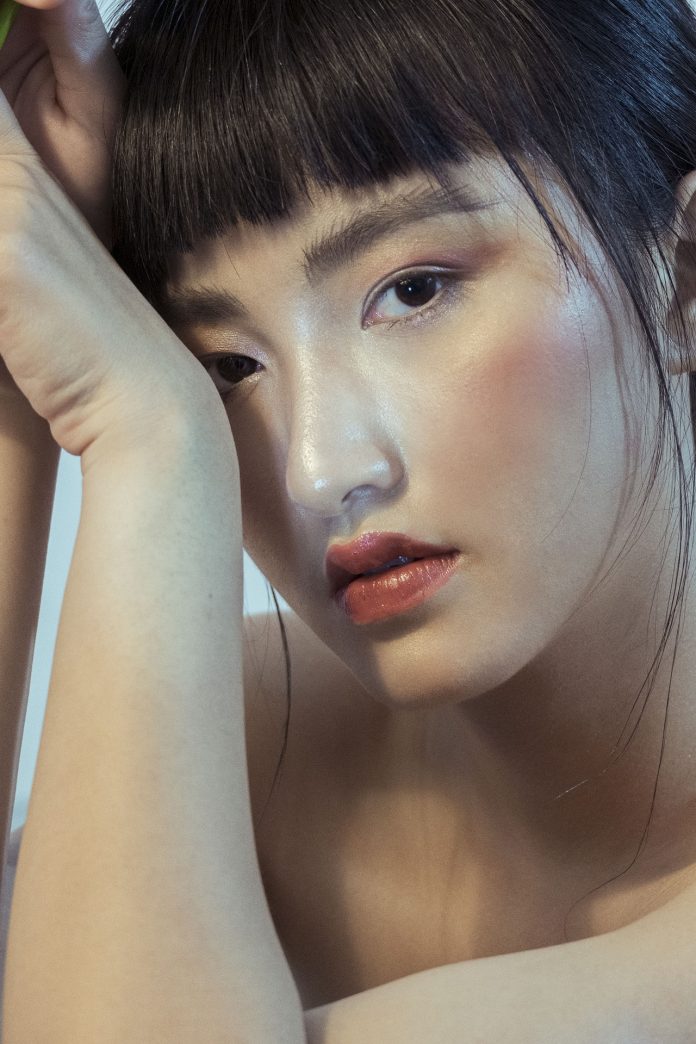 What is the famous Glass Skin?
Achieving glass skin is the new #skingoals and, apparently, the newest sensation in the K-Beauty trend. An amazing gift offered by the wondrous world of Korean skincare, glass skin is a term used to describe flawless, dewy, lustrous, and even-toned skin that has the appearance of glass. The skin looks exceptionally radiant, offers a translucent glow, and is practically spotless. However, you need to put in a lot of effort and hard work to achieve glass skin. It is essential to follow each step. The glass skin routine described ahead is a highly accurate and reliable glass skin routine. Addressing the essential steps and the products recommended by famous beauty bloggers and experts achieving the perfect look.
Here is the 7-step routine you need to implement:
Double cleanse with a gentle foam cleanser
When it comes to any skincare routine, cleansing is always the first step as it purifies your skin for the rest of the steps. You need to pick a gentle facial cleanser for the glass skin routine as you'll be following it up with an exfoliate. For achieving crystal clear skin, we use the double cleansing method for a smooth canvas. Double cleansing is not about washing your face twice but a way to rid your skin of pollutants, makeup, dirt, and excessive oil. So, start by washing your face with a cleansing oil such as Be The Skin's Daily Complete Cleansing Oil or Drunk elephant Slaai Makeup-Melting Butter Cleanser.
Take a small amount of facial cleanser, add water to transform it into mousse consistency, and gently massage your face. Rinse it off thoroughly with lukewarm water and pat it dry with a clean washcloth. After that, use a water-based cleanser that foams like CeraVe Foaming Facial Cleanser or with Peach and Lily's Power calm Gel Cleanser or any type of cream cleanser.
Exfoliate with a face scrub
Once your skin is like a clean canvass after double cleansing, the next step is to deep clean it further with the help of an exfoliator. It is a crucial part of the glass skin routine as it buffs away all the dead cells, blackheads, clogged pores, and dull skin. You can go either for a chemical exfoliator such as lactic or glycolic acid or a physical one. However, there is one crucial thing that you should remember while exfoliating, and it's to choose the product according to your skin type.
For instance, if your skin suffers from dryness, it's best to go for a nourishing scrub like the Pure-Sugar Nourish & Soften Cocoa Scrub or the Pure-Sugar Resurface & Energize Kona Scrub from L'Oréal Paris. However, don't overdo this step because it's more than enough to exfoliate two to three times weekly.
Use a hydrating toner
Achieving the perfect glass skin is all about hydrating and moisturizing. That's why you need a hydrating toner to achieve optimal hydration for that glassy glow. Most of us tend to skip toning because many people find it to be too drying. But, with the right toner that has moisture-enhancing and refreshing ingredients like floral water, green tea, etc., you'll rethink before skipping this step. According to the Korean beauty expert and skincare blogger Jude Chao, applying up to seven layers of toner generally works better for a glass skin routine because your skin needs to be highly hydrated so that it can absorb the oncoming products better. If you don't have a preference, try using Savor Beauty toning Mist or COSRX AHA/BHA Clarifying Treatment Toner to set your skin's pH levels.
Throw in essence
Applying essence helps add that extra hydration to your skin because the more hydrated your skin, the better. Applying an essence is an integral part of the Korean skincare routine because it is light and highly hydrating. An essence falls somewhere between a lotion and a serum and has water as its main ingredient. They address skin problems such as redness and pigmentation and are great for acne-prone skin. Shani Darden Sake Toning Essence and Peach & Lily Wild Dew Treatment Essence are widely recommended for glass skin routines. Just dab the essence on your skin with a cotton pad and let it do wonders.
Apply a serum
One of the best ways to boost your skin is to serve it with highly concentrated doses of active ingredients such as those found in a hydrating serum. A hydrating serum adds to the dewy complexion of the glass skin look, and if you buy a serum with antioxidants, it will also protect your skin against free radicals. You can apply a face serum onto damp skin after double cleansing and toning. You can use a few effective toners for Korean glass skin, including Pineapple-C Bright Serum by Glow Recipe, Freshly Juiced Vitamin Drop by Klairs, or Peach & Lily's Glass Skin Refining Serum.
Moisturize, moisturize, and moisturize
Moisturizing is the number one goal for achieving the perfect Korean glass skin because the more moisturized your skin is, the better the luminescent look. The key is to go for a maximum moisturizing yet lightweight moisturizer that nourishes your skin to the core. Don't use a moisturizer that's too greasy or stays on the skin for too long. It will lock in all the nourishment from the products and moisture in your skin and make it look extremely radiant. Therefore, you should go for superlight moisturizers like TATCHA The Water Cream, Murad Skin Perfecting Lotion, or L'Oréal Paris Hydra Genius Daily Liquid Care – Extra Dry Skin.
Complete it with a mask
It's time to seal the deal, and we are recommending you do it with a sheet mask. You'll find a variety of things, from applying eye cream to putting on sunscreen as the final step for the glass skin routine. However, a mask is simply one of the best ways to replenish moisture and soothe the skin. Sheet masks and clay masks are both fine as a sheet mask gives you that instant glow, while clay masks reduce the appearance of pores without drying the skin. We would recommend using Peach & Lily Super Reboot Resurfacing Mask or Youth to the People Superberry Hydrate + Glow Dream Mask.
Conclusion
The Korean glass skin is the new hype, and we can't blame if everyone wants to achieve that perfect glossy, radiant skin. The key to achieving a dewy complexion is to hydrate and moisturize your skin as much as possible. Use products best suited for your skin type and follow the above routine for glowing glass skin. After all, a glowing skin takes your confidence level high and as a woman, allows you to excel in life.
Also read: TOP 10 WOMEN IN TECH & HOW THEY ARE CHANGING TECH INDUSTRY