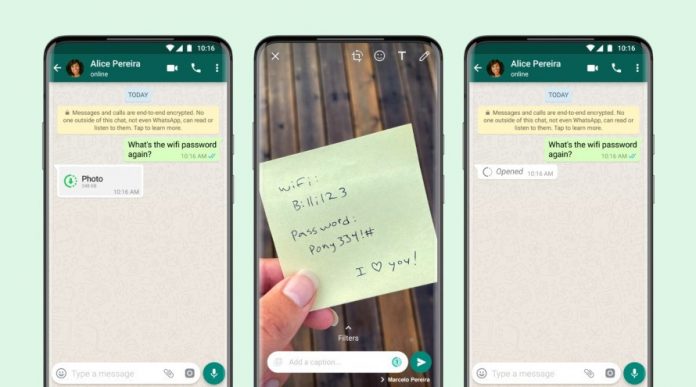 Ever been hesitant to share some 'risky' photos with your WhatsApp contacts but you had to for some reason? Well, you don't need to worry anymore as users won't be able to view the media you have sent more than once.
WhatsApp, following the footsteps of Instagram and Snapchat, have launched the 'view once' feature and it will be available for users from this week. Users will have the option to select 'view once' at the bottom corner before hitting send. This new feature comes in as a move to let users share private/sensitive information with others, without them being saved for later.
Relating to the release WhatsApp stated, 'while taking photos or videos on our phones has become such a big part of our lives, not everything we share needs to become a permanent digital record,'
WhatsApp Focuses on Increasing Privacy
The primary reason behind the launch of this feature is to ensure privacy. This would enable senders to share photos or videos with comfort. As said 'giving users, even more, control over their privacy'
However, unlike Instagram or Snapchat, the sender won't be notified if the receiver screenshots it! Therefore, WhatsApp reminds you to share such media with trusted individuals.
"Only send photos or videos with view once media enabled to trusted individuals. For example, it's possible for someone to: Take a screenshot or screen recording of the media before it disappears. You won't be notified if someone takes a screenshot or screen recording," WhatsApp said in a blog post on Wednesday.
Is The 'View Once' Different To That Of Instagram and Snapchat?
The one major difference is that you get a notification if the receiver screenshots the photo, which is not the case with WhatsApp as of now. This is the one notable difference.
Moreover, there is a timer that you can set whenever sending a snap on Snapchat to anyone from your friend list. Whereas, on Instagram there is a fixed timer set by default however, the user can have the option to enable 'replay'.
Conclusion
The introduction of the new 'view once' feature is likely to change how people used to share media before. Users would feel more relaxed while sharing sensitive information like Wifi passwords etc. All-in-all this is a good addition to WhatsApp to ensure privacy. Not only this, it would also mean less storage being consumed in the gallery for the receiver.
Also read: Facebook partners with Ray-Ban for the launch of SmartGlass