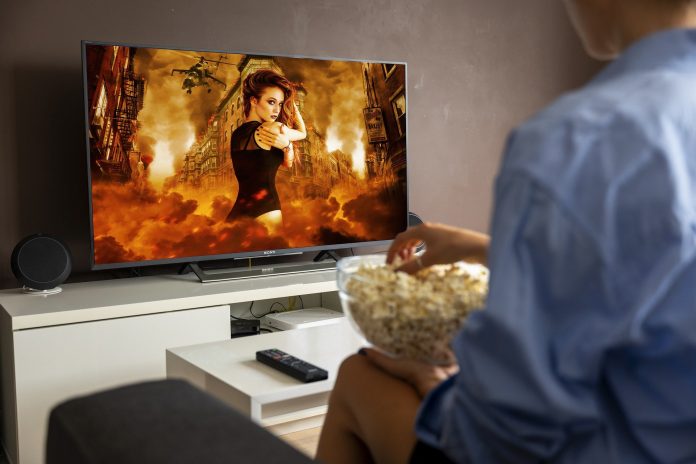 Remarkable improvements in today's display technology provide you with some impressive TVs that are the slimmest and the smartest. Slim TV is ideal for your living room as it takes much less space while imparting a trendy and stylish look to any area. This article is for people who wish to buy the thinnest and smartest TVs available in the market. We have gathered a great collection of slim TVs with excellent features, screen sizes, and prices. Buying a slim TV can be a very great and smart move, especially if you will mount that device on the room's wall. Slim TVs have reduced thickness, creating an elegant visual that easily fits your room's entire design. Even though it's true that you may have to spend a bit more money on the latest slim TV, there still are other models that can attract you and are inexpensive. Read on to get a balanced list of slim TVs that are the best you can have in 2021!
10 Best Slim TV (s) To Buy In 2021
TCL 6-Series
The best picture quality in just $980 is like a fantastic thing to happen. The previous TCL 6 series also has nice picture quality than the predecessor due to the mini-LED technology and full array dimming. These features make it the best among other slim TV series. It comes with gaming features making it a better-sold choice for gaming TVs with THX mode. It joins low enough lag with high contrast. The operating system of the TCL 6 series is becoming a hands-down favorite. Sizes available to buy include 55-, 65-, 75-inch.
LG OLEDG1P Series
If you search for the best TV and are afraid to spend much on it simultaneously, something like that is available for you. The LG G1 OLED TV seems the perfect slim TV you can ever get. With its marvelous contrast, best wide viewing angles, and world-beating uniformity, it can add a delightful look to your living room. It has a much slimmer and wall-friendly design. At Best Buy, it is worth $2800. If you have the money, that's the TV you need to get. Also available in various sizes like 55-, 65-, 77-inch.
LG OLEDCXP Series
It is currently much lower in cost than the G1 TV models, with good picture quality and a better gaming experience. LG OLEDCXP series is a wise choice for you if you are looking for a nice OLED slim TV but have only a few bucks to burn. The G1 series has a slightly brighter screen with excellent video processing, but it's hard to differentiate between them. The real benefit to the G1 series is the slim styling, but LG OLEDCXP is slim itself and available in a wide range of sizes, including 48-, 55-, 65-, 77-inch. The price range starts from $972.74 at the Amazon store.
Samsung QN90A Series
If you don't like OLED but are searching for spectacular picture quality and high-end slim TV, Samsung QN90 is meant for you. It utilizes QLED technology augmented through mini-LED for much brighter images than OLED TV. Also, this TV is a bit less costly than the 2021 OLED and available in different sizes of 50-, 55-, 65-, 75-, 85-inch. The Samsung QN90A is worth $1547.99 at Amazon.
TCL 4-Series
If you love live TV streaming such as Netflix, Amazon prime video, and Hulu, you need Roku's TCL 4 series slim TV. However, its 4K resolution, picture quality, and HDR performance can't beat other best models, but it is a perfect TV for many, especially at $499.99. You can choose between various sizes, including 43-, 50-, 55-, 65-, 75-, 85-inch.
Vizio V-Series
Vizio V series is among the most favorite and budget-friendly TVs. Previously Roku's slim TV system was thought better, but V-series display more impressive advantages. It has improved remote voice and additional picture settings. Also, it is much cheaper than Roku's TVs. Sizes of 43-, 50-, 55-, 58-, 65-, 75-inch are available at Amazon, ranging between $370 to $920.
Sony X90J Series
With splendid image quality attached with full array dimming and brightness Sony X90J slim TV series makes HDR content shine more. It has a Google TV system, sleek-looking design, and 4K inputs. Sometimes Sony offers VRR and a built-in next-Generation TV turner. The 65 inches size is worth $1348 at Amazon.
Samsung Q60A Series
Samsung is the best TV brand selling more TVs as compared to other brands. Its popular slim TV model is the Q60A series. The sleek and slim OLED screen design makes it the must-have TV on this list. Even though OLED ultra-slim models are more elegant, it gives improved image quality and features. It is available in sizes of 43-, 50-, 55-, 60-, 65-, 70-, 75-, 85-inch. The price of a 65-inch TV is $997.99, available at Amazon.
Hisense U8G Series
Hisense U8F series is the best slim TV for providing maximum brightness. Almost all the slim TVs outlined in this list offer enough brightness to any room, but if you are looking for a much brighter screen, go for U8G. It overshines many slim TVs in its affordable price range and is similar in brightness to the more expensive models such as the amazing QN90A. The available sizes Include 55-inch and 65-inch with a price of $899 at the Amazon store.
TCL Ultra slim 3-Series
TCL 3 series are the best small budget slim TV. If you want a smaller size than 55 inches and value smarts more than image quality, TCL 3 series is right for you. Picture quality is good, and they have superb built-in smarts. It is affordable and looks perfect in your kids' room or where you don't need a big screen. TCL is available in different sizes, including 28-, 32-, 40-, 43-, 49-inch. The price for the 32-inch size TCL 3 series is $188, available on Amazon.
Features And Design Increasing Smart Slim TVs Demand in the Market
A complex application is not always a better application. The design and layout of the device must be user-friendly and be easily accessible, and explicit features arranged more conveniently. Smart ultra-slim TVs are just that of a kind. It comes with a simple yet attractively slim body and easy-to-use features that will not require a manual to learn through it. An aesthetically satisfying design display makes slim TV look simple and increasing its worth in the technology market. It gives the users a pleasing experience with its marvelous color effects, resolution, and better screen composition. Ultra Slim Tv design makes it a must-have television to add an eye-catching look to your home.
Difference Between Slim TV And LED TV
Smart slim TV works online with internet connectivity. It operates with the help of a DSL cable and displays a complete range of shows or programs. Smart Slim TVs have no fixed prove, and you can pay for them every month. In addition, it can operate on any visual device and can work without needing any display specification. There is no option available in size in your smart ultra-slim TV. Also, it has its channels, content, and terrestrial networks.
On the other hand, LED, the light-emitting diode, is television that displays clearer images in the light. It is independent of internet connectivity to operate its functions. LED is among the latest and trendy technologies in television devices and is the most costly of all TVs. It needs a more uniformly spreader brightness and comes with only a few size choices. In addition, LED TVs provide channels through broadcast networks.
Benefits Of Buying Smart Ultra Slim TV Technology
Since smart slim TV is the most trendy TV variant in today's tech market, getting one also enables you to benefit from its other features. Suppose you buy OLED or LED displays, robust speakers, slim bezels, and even a high-quality camera to capture you while enjoying watching TV with your friend in your living room. You will get a chance to watch your slim TV from a much wider visual angle, experience great HDR performance, splendid external layout, and ergonomic design, better contrast ratios with decreased dimming abruption. While considering these top features and enjoying benefits when you get a smart ultra-slim TV, make your purchase smarter with customized offers and tailor-made deals by sharing some basic details to get approval.
If you are a PC gaming enthusiast, have a look at this: The Top 10 Lightest Gaming Mouse for a Crazy Gaming Experience