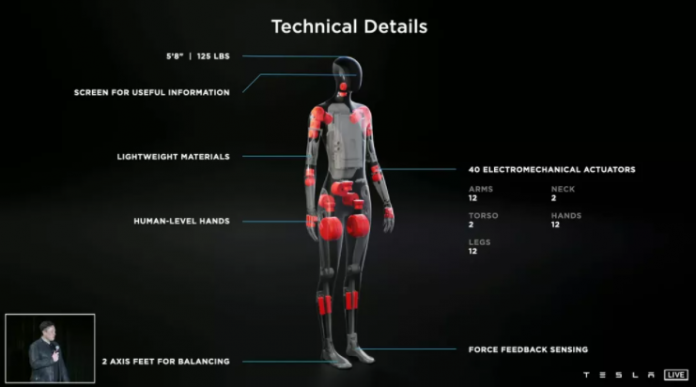 For a long time, we have been hearing about a future where robots would replace humans in doing tasks and potentially 'takeover.' The AI Day event, which took place on Thursday, potentially hints at that.
At the event, the Tesla CEO, Elon Musk, unveils that Tesla is working on a new project, Tesla Bot. This is expected to be a big development for the future of AI. The theory behind this is to make a robot that would be human-like, able to do the daily tasks, and a robot that humans can overpower.
"We're setting it such that it is at a mechanical level, at a physical level, that you can run away from it and most likely overpower it,"
This leads us to our next question: How will the Tesla Bot look like?
Tesla Bot Features
Let's talk about the physical attributes first. It is going to be a 5 foot 8 inches long robot and would weigh 125 pounds. Tesla Bot would be capable of traveling at 5 Mph.
As far as physical strength is concerned, it can carry 45 pounds and dead-lift 150 pounds. Quite strong, I'd say.
Tesla Bot's face will have a camera similar to that in Tesla Cars. The autopilot camera will be installed in the head. All-in-all, the bot would be equipped with 8 cameras.
Musk also added "It's intended to be friendly, of course, and navigate through a world of humans, and eliminate dangerous, repetitive and boring tasks,"
When Can We Expect Tesla Bot to Be Launched
Although Elon Musk has said that the company plans to launch a prototype by next year, there is still a lot that needs to unfold before we can be sure of a date in time.
In 2016, on 'Autonomous Day,' Musk hinted at having "one million robotaxis on the 'road' by the end of 2020′. Well…that didn't happen.
A lot of earlier predictions have not yet translated into reality. Therefore, it's best not to get too overly excited by it.
In other news: WhatsApp users can transfer chats across different OS (Android to iPhone)