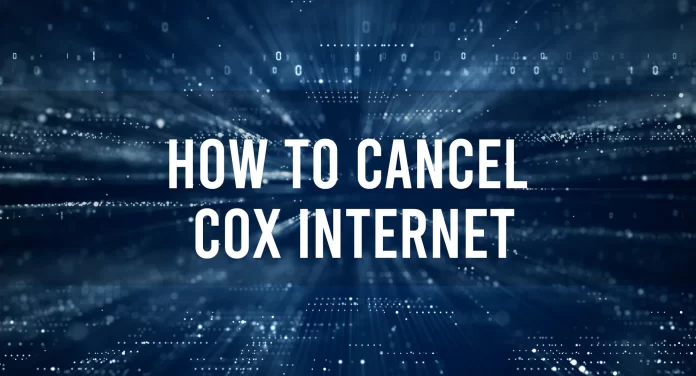 Are you wondering how to cancel cox internet? Well, guess what? In today's fast-paced world, our preferences and needs can change rapidly, especially when it comes to entertainment and communication choices. You can effortlessly terminate your Cox subscription if you want to relocate or change providers by contacting the professional Customer Care staff or going to a Cox retail shop.
But how to cancel cox internet services with the proper steps?
What are the specific considerations and requirements when canceling Cox service?
Don't worry! TheWebTribune is here to help you. This comprehensive guide will walk you through the process of canceling Cox Internet and TV services while keeping important factors in mind, allowing you to make an informed decision.
How to Cancel Cox Internet and TV?
1. Understand Your Contract
Before canceling your Cox TV and Internet services, you must understand the terms and conditions mentioned in your service agreement. Contract language, requirements, and obligations can vary substantially; therefore, familiarizing yourself with these aspects will tremendously help you navigate the Cox service cancellation process effectively. You can verify your contract status by visiting https://www.cox.com/coxapp/myservices
Read over the contract you signed with Cox when you first joined up for their services. Pay special attention to the sections on cancellations, early termination costs, notice periods, and any other pertinent provisions. Understanding these terms helps prepare you for what to expect when considering cox communication's cancel service.
Moreover, contracts frequently specify the length of notice you must provide before canceling services. The goal of this notice period, which can range from a few days to several weeks, is to provide the service provider time to process the cancellation and make any required modifications. If you fail to submit the proper notification, you could encounter extra charges or issues. Therefore, take note of the notification period and schedule your cancellation accordingly.
2. Call or Visit the Cox Service Providers
To terminate your service, contact Cox at 1-888-952-3278 or visit the nearest Cox store. While Cox does provide online chat for technical and billing help, it is vital to remember that service cancellation can only be completed through direct communication with a Customer Care professional.
The Customer Retention team, in charge of account closures, is accessible Monday through Friday between 8 a.m. and 9 p.m. ET and on Saturdays from 9 a.m. to 6 p.m. ET.

The automated service will ask you for your 10-digit billing phone number when you call. After entering this information, choose the menu that links you to a billing agent.

If you want a more personal approach to canceling Cox service, visit https://www.cox.com/local/search to find a Cox shop near you.
3. Talk to the Cox Service Representative
Inform the agent that you are canceling your internet service. Remember that the reps are trained to investigate the reasons for your decision and perhaps persuade you not to cancel. A legitimate and persuasive rationale can make the process go more smoothly. You may, for example, claim that you're moving to a region without Cox coverage or that your job now offers internet access.
You may be redirected to a customer retention specialist during a phone cancellation. This individual can make a more serious attempt to preserve your business. They can offer you additional benefits or discounts to entice you to stay. If you're adamant about stopping Cox service, keep a pleasant demeanor while firmly reiterating your wish to cancel. If the agent continues to try to retain you, request to talk with a supervisor.
If you have additional Cox services, such as cable or phone service, specify your intentions. You must inform the agent if you want to keep these services while canceling the internet.
4. Gather All Cancelation Details
If you're contemplating how to cancel cox internet, you should acquire and comprehend some important data to ensure a smooth and trouble-free process.
Here's an in-depth breakdown of the cancellation specifics to remember:
Account Information: Gather your account information, including your account number, account holder's name, and contact information. This information is required for Cox's customer support agents to identify your account and efficiently serve you.

Contract End Date: Determine the precise date when your contract will end. If your contract is about to expire, you may have greater leeway in canceling without paying early termination fees. This information will assist you in carefully timing your cancellation.

Return of Equipment: If you rented equipment from Cox, such as modems or cable boxes, learn how to return it. To prevent further charges, gather information on where and how to return the equipment. Keep track of the return procedure for future reference.

Document All encounters: Keep a record of all encounters with Cox's customer support employees. Keep track of names, dates, reference numbers, and chat summaries. The evidence is important if any disagreements or concerns develop later.

Billing Monitoring: After canceling, check your billing bills to be sure you're not being charged for Cox services. Contact customer support right away if you detect any irregularities or unusual costs.
5. Return the Equipment
If you have leased internet equipment from Cox, such as a Wi-Fi router or modem, you must return it after canceling to avoid fees. To avoid extra costs, bringing all Cox equipment, including power connections, is critical.
Visiting a nearby Cox shop is the most convenient way to return your equipment. Searching for "Cox Store" on platforms such as Google Maps or Apple Maps can take you to a close location.
Another alternative is returning Cox equipment through the mail for free. Transport the shipment to any UPS Store near you after receiving a prepaid mailer from Cox.
If you did not request a prepaid mailer during the cancellation process, you can still receive one by contacting Cox's live chat support, calling them, or going to a Cox store.
Potential Fees and Considerations
While canceling Cox TV and Internet services may appear simple, there are several fees and challenges to be aware of:
Early Termination Fee
The Cox early termination fee is charged if you terminate your Cox TV and Internet services before the contract ends. Many service providers, like Cox Communications, offer fixed-term contracts. If you cancel before this time, you may be charged this fee, which is meant to mitigate the expenses of setting up and maintaining your services.
Cancellation Fee
In addition to the potential early termination cost, Cox Communications may levy a cancellation fee if you elect to discontinue your services. This price usually differs from the early termination fee and can be charged even if you aren't in the middle of a contract. The cost may be justified by administrative expenses connected with processing cancellations and ceasing services.
Conclusion
Understanding how to cancel cox internet and TV services necessitates a thorough awareness of the procedures, prices, and equipment returns. You can guarantee a smoother cancellation of Cox cable by following the steps listed above. Before making a final decision, check your contract conditions, learn about costs, and consider alternative possibilities. If you have any questions or need clarification on any element of the canceling procedure, please contact Cox's customer care. Making a sound decision will allow you to confidently manage the process.
FAQs
How to cancel cox internet online?
Well, you simply can't. In fact, you must terminate your service either by phone or by visiting a physical store. While a cancellation option is provided in your online account and during online conversations, it is crucial to know that both avenues eventually lead to a Cox cancel service phone number.
What is the process for returning Cox equipment?
Rather than waiting until the end of your regular payment cycle, you must return your Cox equipment within ten days of your date of disconnecting Cox service. It is essential to secure a receipt to confirm equipment return, whether in-store or by UPS. Failure to do so may result in equipment replacement expenses.
Will I be charged if I transfer my  Cox service to a different location?
Depending on your area and the specifications of your plan, transferring your Cox service to a new address may incur a transfer charge. To obtain precise information regarding potential transfer costs, contact Cox customer care.