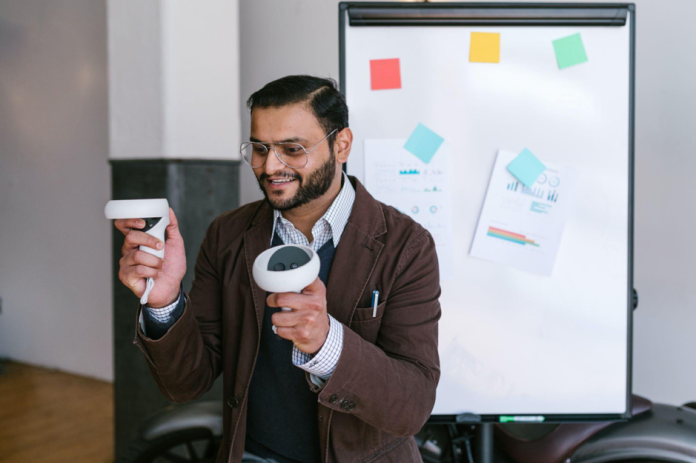 Virtual reality has gone from being a science fiction concept to a consumer product that has become increasingly accessible to the everyday audience. More kinds of people are entering the market to buy VR headsets. There are dedicated gamers with top-of-the-line PCs who want to add a headset to their gaming setup and consumers who want a VR headset that is functional on its own. For the latter, the Oculus Quest 2 offers the best standalone VR experience currently available. So, do you need a pc for Oculus Quest 2? Read on to find out.
What Is the Oculus Quest 2?
The Oculus Quest 2, like its predecessor, is a standalone VR headset that runs on its Android operating system. Compared to its predecessor, it has a better processor, a higher resolution display, and a lighter and smaller build. All Oculus Quest 2 orders include a VR headset and two controllers.
How to Set Up the Oculus Quest 2
Setting up an Oculus Quest 2 is a quick and easy process. While other VR headsets require you to place tracking sensors and cameras to establish a field of view, the Oculus Quest 2 is entirely self-contained in its design. It uses the four cameras on the outside of the headset to map the world around it and is equipped with sensors that can track movement in six directions: Up and down, forward and back, and left and right. You must make sure your device is charged, download the Oculus App, adjust your headset and press the power button.
Do You Need A PC for Oculus Quest 2?
Unlike most other VR setups, the Oculus Quest 2 can run without a high-end computer, laptop, or smartphone. This is because the device comes with its powerful processing chip, the Qualcomm Snapdragon XR2 SoC. While not as powerful as the device would be if plugged into a high-spec computer, the Oculus Quest 2 can still render lifelike worlds that are detailed and immersive for the user. The headset comes with a virtual store that you can access to explore different games, activities, and other adventures on offer.
Can You Use an Oculus Quest 2 with Your PC?
The Oculus Quest 2 is a capable device on its own and comes with a large catalog of games that are available through the device's virtual store. However, the Oculus Quest 2 can also connect to your PC and access and run games on your Steam Account. All you need to do is download the Oculus Quest App onto your PC. The device can either be connected through a USB type C cable or Airlink by ensuring both the PC and your Oculus Quest 2 are connected to the same Wi-Fi to enable them to pair.
What Can You Do On an Oculus Quest 2?
● Stream your favorite content: The Oculus Quest 2 allows you to use the headset to interact with many of the biggest streaming platforms, including Netflix, Hulu, Amazon Prime, and HBO Max.
● Attend Live Events: Be part of the crowd in a live concert, sporting event, or comedy shows through apps like Horizon Venues
● Exercise: The Oculus Quest 2 is full of fitness apps you can use to improve your workout.
● Explore Beautiful Environments: Travel through different terrains and aesthetics without having to leave the comfort of your home through apps like Nature Treks and Wander
● Play Games: The Oculus Quest 2 is full of great Triple-A title games like The Walking Dead: Saint and Sinners and Resident Evil 4. You can also connect the Oculus to your PC to access your Steam VR games.
● Connect With New People: The Oculus Quest 2 is full of apps that allow you to interact, collaborate and share your work with other app users.
FAQs
is an Oculus Quest 2 worth buying?
Yes, the Oculus Quest 2 is widely regarded as the best standalone VR headset in the market while being priced competitively compared to other high-end VR headsets.
how long is the battery life on the Oculus Quest 2?
A full charge should last about two hours if you are playing games requiring high processing and three hours on light use.
Do you need to wear earphones while using the Oculus Quest 2?
No, the Oculus Quest 2 has internal speakers for sound and also comes with an inbuilt microphone.
does the Oculus Quest 2 work with a PS4 or Xbox One?
since these products have their brand of VR products, the Oculus Quest 2 is not officially supported by either the PS4 or the Xbox One.
Do you need a pc for Oculus Quest 2?
No, the Oculus Quest 2 is a standalone device and can be used without a PC. It can however connect to your PC if you wish to access Steam VR games.
Conclusion
If you're considering making your first purchase within the realm of virtual reality, the Oculus Quest 2 is an excellent choice. The device's portability and wide range of features make it a great option for those looking for an immersive experience without needing a powerful PC. The Oculus Quest 2 can be used to explore new worlds, attend live events, exercise, play games, and even connect with new people. And with the device's reasonable price tag, it's an attractive option for those looking to enter the world of VR without breaking the bank. So if you're interested in trying something new and exciting, the Oculus Quest 2 is definitely worth considering.