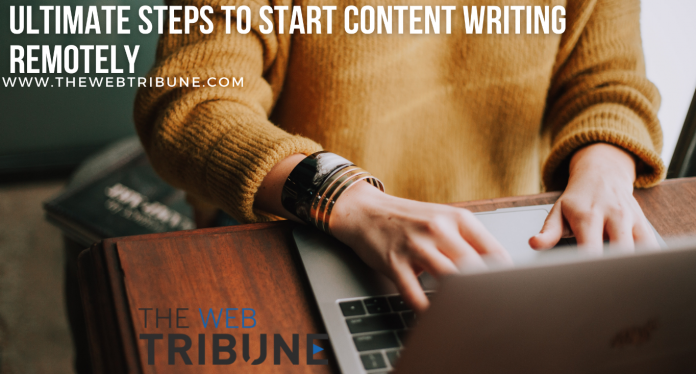 Do you have doubts in your mind about being a content writer? Or are you an introvert who doesn't feel like adjusting to the office for work?
Well, if yes, then this article will be of great help to you. If you have the skills required to become a content writer, you just need to embrace those skills and build up a little confidence.
You can earn a handsome amount by working online in this wholly digital world. Content writing jobs are everywhere, and organizations require content writers in a large number.
Because online businesses can not run successfully without good content and product description, people won't buy anything from you if you fail to convince them.
Many professional writers are working from home, and they are earning a good living. You can become one of them.
Want to know how? You all must be familiar with freelancing. It is a self-employed job where the person doesn't have to go to the office to do work.
In freelancing, people offer their services like content writing, development, marketing, etc., to the outside online world via several platforms, including Fiverr and Upwork.
Many software houses and organizations also hire employees remotely. They assign them their tasks via software or application like Trello.
In the next section, we will discuss how you can become a content writer and earn by working from home. So, keep on reading!
Complete guideline to become a remote writer in 2022
· Decide the type of content you can write the best
Primary steps are always important for your business and its success. While deciding to become a content writer, your primary step is to choose the content writing type that can best fit your skills.
There are generally three main categories of content writing 'Blog post,' 'Affiliate content writing,' and 'Web content writing.'
Blog post writing aims to provide information about a certain topic. If your research skills are impressive and you can write content that inspires people, it is definitely your type.
Next comes affiliate writing. In affiliate content writing, writers are required to write product reviews to promote the brand for its marketing. If you have persuasive writing skills, go for it.
Last but not least, we have web content writing. In this content writing type, we write for another company or website, also known as guest posting.
It requires good writing skills with good research and uniqueness. Deciding your writing style will give you confidence in your writing and attract your clients' attention.
· Write some samples on your decided content writing niche
It is necessary to write a sample of your writing before you make your profile on freelancing platforms like Fiverr and Upwork.
Also, we see content writing posts on social media sites. Before you contact them, it is important that you have some well-written samples to show them because they will always ask for samples before hiring.
And if you don't send them the samples, it will make your image very unprofessional, and they will never hire you.
The same is the case with freelancing platform clients. They prefer giving tasks to professional writers, and their writing samples judge the professionality of writing.
Therefore, it is suggested to write some samples of your chosen writing niche before going for remote content writing.
· Work with honesty, never cheat your client
Honesty is very important in employment. A client is always impressed by the honesty of your work. You will never gain your client's trust if you don't bother honesty.
How can you work with honesty in a content writing job? In a content writing job, your honesty is fully dedicated to your writing.
Write as if you mean it. Don't write just to earn. Write with full determination. Don't go for plagiarism because it will ruin the quality of your content and break your client's trust.
Once you lose your client's trust, he/she will not work with you for the long term. A good client relationship is very crucial for a remote writing job.
If you are hired as a remote content writer in an organization, the same honesty factor applies. Your honesty and dedication to your work will reward you in multiple ways.
· Always write a well-researched and well-formated content
In content writing, the quality of content is very important. And how can one ensure content quality? There are two things that every content writer must keep in mind.
Thorough research and good formatting. When you are assigned a task for writing, the first thing you opt for is research.
Don't start writing immediately. Take enough time for searching about the topic. Explore more than one source while researching.
Understand the topic, write down the key points that you can utilize well while writing. If the task assigned to you is lengthy, you don't have to complete it in a single day.
Divide your task based on your research. Start writing it once you are confident about the topic and have enough to write about it.
Because there is no way you are using plagiarized content. But if you think some points will emphasize your writing, you can add them.
Well, not as it is. You have to work smart here. Paraphrase the points using the rewording tool that changes the sentence structure of those points, and you are good to add them to your content.
Writing well-researched content is not the only quality determining factor of your content. Your content must also be well formatted.
And be formatting it means, including good headings. Make use of H1, H2, and H3 headings. Make catchy headings by using good phrases.
Make sure you align your content properly before submitting it to the client. It will impress your client, and he might want to work with you long-term.
· Make the content highly optimized for Google
Remember one thing when you are writing content. Make it highly optimized for Google, whether a blog post or web content.
Always think that you are writing for Google, not for your client. Because if your written content ranks on Google, your client will be very impressed with your writing skills.
And he will surely want to work with you more. How will you optimize your content? If you are thinking about starting content writing, you might not be familiar with content optimization.
Content optimization includes two things. On-page and Off-page SEO. On-page SEO includes content formatting and targeted keywords in the content.
Google display results based on the keywords users enter. If you include the most searched keywords relevant to your topic, it will enhance the chances of its ranking on Google.
Many tools will help you find your targeted keywords like Buzzsumo and Ahref. Make sure to discuss the keywords naturally because Google doesn't likely consider promotional content for ranking.
Off-page SEO is also very important. But being a remote writer, you might not be asked to do it. Because in off-page SEO, people attach backlinks to high authority sites to gain traffic.
Your client will do it by themselves. There are different tools to gain traffic. If they give you a link to attach, make sure you discuss the keyword naturally and attach the link by selecting the keyword.
After you select the keyword, bold it, and then press Ctrl+K to attach the link. Hit enter, and you will see the blue highlighted link. It is all for content optimization.
· Review your content for mistakes before finalizing it
If you want to write content that inspires your client, you have to take a step ahead. Writing well-researched and well-formated content is always appreciated.
But mistake-free content is idealized. And the best way to find mistakes in the content is through reviewing it or rereading it.
Rereading will help you find all the spelling mistakes and grammatical mistakes in your content you might make while writing.
Always review your content with the eye of your client. Review with the purpose of finding mistakes. Correct them, and then save the changes you made if you find any.
· Always check plagiarism before handing over the content
It is mandatory to ensure the uniqueness of your content before you hand it over to the client, for this run the content through a free online plagiarism checker with a percentage.
If the plagiarism checker detects any plagiarized content, you have to remove it to make it unique and Plagiarism free.
The plagiarized free content will enhance the credibility of your writing and impress the client with your dedication to your work.
Advantages of remotely content writing
If you still have any doubts or uncertainties in your mind about starting content writing remotely, you must read some of the major benefits of a remote writing job.
And the benefits are:
No strict work timing. Work whenever you want.
You can manage other tasks too, which is not the case with 9 to 5 jobs.
You are answerable to your boss for being late or for other emergencies.
You will be able to do the high productive task without any distraction.
Final Words
Content writing is one of the most promising fields of work in this era. Especially suited for students, they can manage their studies and earn well with remote writing.
People often get confused about how to start content writing. This article summarizes some best steps that will help you start content writing. Consider giving it a read. Thank you!