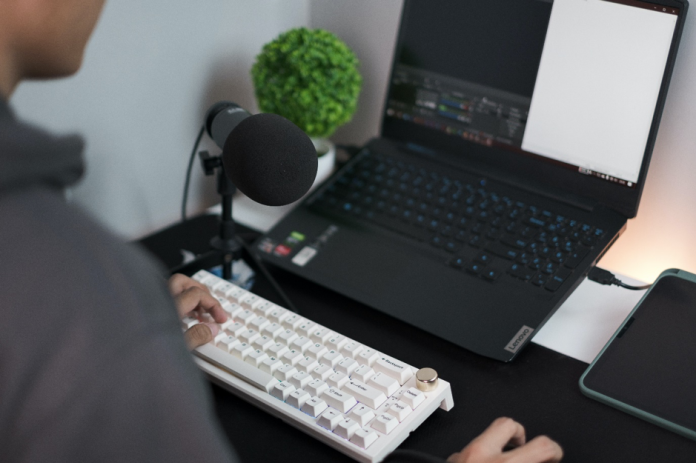 Are you tired of pressing backspace and deleting text often because you accidentally hit the wrong key? Want to type more comfortably and accurately? Are you looking for the best keyboard for big hands and fat fingers? Then you're at the right place.
Keyboards with flat and sleek designs look great, but usability is more important than looks.
People with big hands often find it difficult to use small or flat keys, and their fingers keep slipping from one key to another, and they get caught up with unintentional typos or unwanted screens opening up while playing a game.
If you want a keyboard for big hands, this comprehensive guide will help you choose a keyboard that best fits your needs.
Regular vs. Mechanical Keyboard for Big Hands
Before you choose a keyboard for big hands, it's always a good idea to have some background knowledge of keyboard structure and types.
The basic difference between regular and mechanical keyboards is the type of switches – membrane switches for regular keyboards and mechanical switches for mechanical keyboards.
Membrane or regular keyboards have a layer of keys connected to a circuit board. Since these keys are not separate, chances are you will slip from one key to another during typing.
Mechanical keyboards are best suited for fat fingers and big hands as they have separate key switches for each key.
Most gamers, data entry operators, and people who want to type faster prefer a mechanical keyboard.
Things You Need to Consider When Buying a Keyboard for Big Hands
Keyboard Size
Keyboard size simply refers to the number of keys on the keyboard. A standard keyboard of 100% size has 101 keys, including a separate number pad.
Keycap
The key's shape significantly impacts your typing accuracy and key-press speed, particularly when you have big hands or fat fingers.
Keycaps come in various heights and shapes – flat keycaps, SA, ASA, and GMK profile keycaps. If you're looking for a keyboard for big hands, you can buy a keyboard with either SA or ASA profile keycaps.
Mechanical Keyboard Switches
There are three main mechanical switches underneath the keys – tactile, clicky, and linear.
While you can purchase any mechanical switch keyboard, tactile switch keyboards are best suited for you if you want a keyboard for big hands.
Keyboard for Big Hands – Best Choices
1. Logitech G915 Gaming Keyboard for Big Hands (Tactile Switch)
Logitech is one of the most popular regular and mechanical keyboard brands.
Most gamers choose the Logitech G915 gaming keyboard for big hands and easy key-presses during a game as it has tactile switches. With an ideal height of 22mm, backlighting, Bluetooth connectivity, and a slim design, it is one of the best keyboards for your big hands.
You can choose from a variety of size options. Logitech keyboards are slightly expensive compared to their competitors, but it's worth the investment.
2. Cherry MX Black Keyboard for Big Hands
Cherry MX keyboard series Ducky Shine 6 and iKBC New Poker II are both perfect choices if you want a keyboard for big hands.
Ducky Shine 6 comes full-size with all three types of mechanical switches, so you have a wider option to choose from. Its keys are high-quality PBT plastic, which shines more and lasts longer.
You can program and customize the RBG lights in the background to give it a techno look.
The keycap size, distance, and critical switches make Cherry MX the perfect keyboard for big hands. While Ducky Shine is costly, you can always choose iKBC to stay within a budget.
3. Corsair K70
If you're looking for a keyboard for big hands with more media control, Corsair K70 is a great choice.
It has larger keys, wrist rest, PBT plastic double-shot keycaps, media keys, USB pass-through, and dynamic multi-color backlights. Even if you're uncomfortable using the wrist rest, you can detach it anytime.
Corsair K70 costs over $150, but if you're a gamer with big hands, you need to "get your hands on" this keyboard.
4. Cherry MX Brown Kinesis Freestyle Edge Ergonomic Keyboard
Ergonomic keyboards are best for you if you're a gamer with big hands! With 100% size and mechanical switches, Kinesis Freestyle Edge can greatly help you type and play games faster with ultimate precision.
You can easily adjust the keyboard position with your hands and let you use your big hands to type comfortably.
As with all ergonomic keyboards, Kinesis Freestyle Edge is slightly expensive compared to standard mechanical gaming keyboards.
5. Corsair K100 RGB Mechanical Gaming Keyboard for Big Hands
While Corsair K70 looks more like a gaming keyboard, K100 RGB has everything you need in a keyboard for big hands.
The enormous size of this keyboard (compared to standard size) makes it appropriate for people with big hands. There is enough space between the keys to avoid accidentally pressing the wrong key during typing or gameplay.
Corsair K100 RGB mechanical gaming keyboard comes with 100% size, wired connectivity, wrist rest, and RGB backlights. iCue Control Wheel helps you program and customize RGB backlight settings, so it's easier for you to work in the dark. However, unlike K70, you cannot detach the wrist rest in K100.
FAQs
Should I buy an ergonomic keyboard for big hands?
It all comes down to your personal choice and ease of use. When choosing a keyboard for big hands, try out different models at display and purchase the one you're most comfortable with.
Why are those percentages written with keyboard names?
When you search for a keyboard for big hands, you may come across different percentages. A 75-80% keyboard size has all the other keys except the number pad, whereas a 60% keyboard has only 61 keys for basic use.
Final Thoughts
Although all keyboards have nearly the same size and spacing, the type of switch, keycap, and height makes all the difference in making a perfect keyboard for big hands.
We hope this guide will help you determine which types and styles are best for your big hands or fat fingers and get a keyboard that best fits your needs.