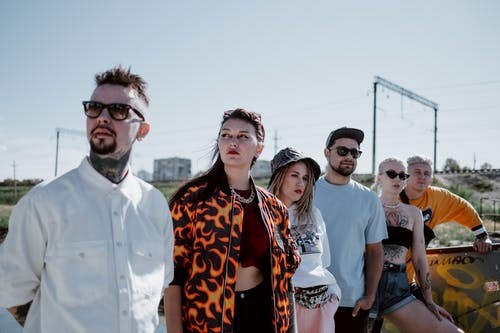 Hype beasts generally refer to anyone who has a habit of buying high-end articles, mainly clothes, shoes, and accessories, of raising their social status. The trend is inspired by the 1990s movement of clothing covered with logos and brand names. Hype beast clothing usually sports a variety of name brands at once to display their affluence and showcase popular trends.
Hype Beast Clothing What Is It & Why It's So Popular?
Hypebeast clothing brands are generally well-liked streetwear labels (or "coveted" by shoppers). While many of these hype beast brands have a cult following at the core of their fan base, others are merely popularized by people looking to pursue a fashion trend. Consumers of this type and the brands they enjoy have contributed to the development of the streetwear industry, which is what gave birth to the popular streetwear and street culture magazine, Hypebeast. The HypeBeast magazine was initially a personal fashion blog that Kevin Ma started in 2005 to report on the latest fashion trends popular among the youth.
Likewise, a hype beast is a person who mainly buys clothes and accessories to impress their peers and keep up with the ongoing trends. However, the increasing number of celebrities who wear these clothes and the popularity of streetwear once again in the fashion industry have made hype beast clothing so popular.
Many top-notch brands have introduced their own hype beast clothing lineup, which has further contributed to its popularity and demand. Some of the popular hype beast clothing brands are Stüssy to Supreme, Commes Des Garcons, Louis Vuitton, A bathing Ape, Balenciaga, Fila x Fendi, and Dior. It mainly featured jeans, T-shirts, baseball caps, and sneakers.
Top Reasons Why the Youth Are Into HypeBeast Clothing
Initially, the streetwear culture was just a millennial thing, but nowadays, Gen Z is keener on buying it. As a result, its customer base is shifting from millennials (between 1982 and 1996) to Gen Z, born from 1997 to 2012.
However, the main reason this fashion trend, i.e., hype beast clothing, is becoming more popular. The number of youth following it is rapidly increasing is pretty simple, i.e., to fit in. Regardless of the era we live in, and youngsters always have the urge to 'fit in,' which leads them to follow ongoing trends quite easily.
Other than the urge to fit in with their peers, there are several other reasons why hype beast clothing is becoming so popular among youngsters.
OBJECTIVE: Being part of the club
Every brand has a purpose. In this way, Gen Z audiences are given a reason to relate to the brand. Today's youth want to discover brands that share their values, so wearing a logo is a way to show who you are and where you belong. In addition, brands with this status are perceived as 'cool,' so wearing their products makes you appear on top of things (literally, waiting for a new release).
For instance, the Anti-Social Social Club possesses a robust tribal culture. The brand was formed to cater to those who don't fit in. According to the brand's creator, people' never liked' him, and his products represent his 'lowest days.' The story is sad but contributes to the product's usefulness for teenagers who share the same interests.
In the same vein, the skate-inspired label Palace was founded by Lev Tanju and a group of friends, part of the skate collective 'Palace Wayward Boys Choir.' Again, brotherhood is something that ties into the brand's purpose. When you purchase a piece of Palace, you are becoming a part of the Palace family.
PRODUCT: Exclusive, local, and out of stock
Gen Z is driven by getting their hands on the most Instagrammable product with an engaging story. We're at the point of saturation with products based on the trend of 'suffocation.' Consequently, Generation Z is seeking more meaningful and personalized products to purchase.
The Life of Pablo pop-up series by Kanye West from 2016 is a great example. Overall, 21 pop-ups took place across 21 cities, and each was equipped with unique colorways and logos. The personalization of West's brand gives the brand some credibility with Gen Z, as he is seen as giving back to his fans.
Exclusivity also adds new meaning to streetwear products. It can be frustrating to see the words 'sold out' in-store and online, but streetwear has a different understanding that it is an exclusive product that won't last long. In this way, a product range is also hyped up. For example, take a look at the website of Anti-Social Club, and you'll see that everything is sold out, but this increases the buzz around the next drop.
Process for creating buzz, queueing, and engagement
Gen Z can buy products easily. The process of unlocking your phone, going to your favorite website, and then waiting a few days for your purchase to arrive — what's the fun in that? Most streetwear brands make it very difficult to get your hands on their latest products. But, at the end of it, you get the satisfaction of knowing you are one of the Y numbers of people using that product.
A brand like Supreme has nailed this look to a (logo) tee! The company has adopted a new but slightly retro approach, whereby information is shared via old-fashioned platforms like forums, Facebook, and word-of-mouth. For example, when you subscribe to a newsletter, you will receive an email with the location where you can obtain a ticket to wait in line. The article on Hypebeast describes how Supreme has gamified the delivery process. For example, to get a passport bearing the number 174, George Stewart-Lockhart had to go to skatepark BaySixty6 at 10 am. He's then told to come back to the queue at 10:30 on Thursday, where he has to wait two hours to get into Supreme after queuing around the streets of Soho (in 174th place).
However, all this difficulty in getting their hands on the products has further elevated the brand's worth in the eyes of the youth.
How It Has Impacted the Fashion Industry
Hype beast clothing has significantly reformed the fashion industry. Being a new generation brand, hype beast clothing brands modified how marketing used to work in the fashion industry.
Fashion marketing has significantly shifted to social networking sites nowadays, and collaborations with different artists are now a must for brands to consider. All these changes in the fashion industry are brought by hype beast clothing brands, who are taking marketing to the next level.
Final Words!
Street fashion has always been in manner regardless of the era we live in. Likewise, Hype beast clothing is a trend that isn't going away anywhere soon. But here, the question is whether it's worth all the hype and money or not? Well, the answer depends on the buyer's perspective only.