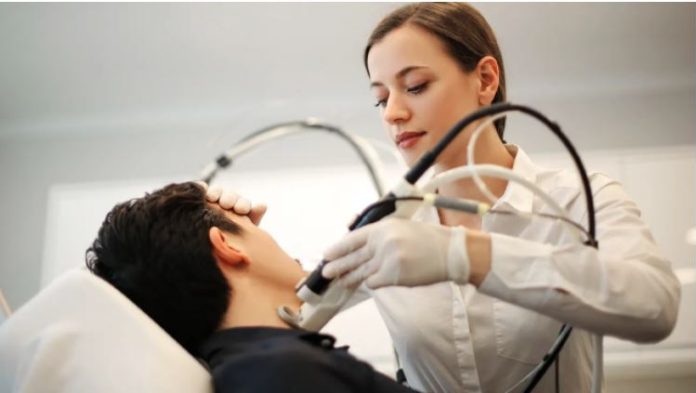 A neck lift surgery is one of the least known cosmetic surgeries. However, in the last decade, there has been an increase in the number of people requesting neck lifts, both male and female. The most terrific selling point for this surgery is its ability to improve one's appearance and reduce visible signs of aging. During the procedure, the surgeon targets the soft tissues of the neck. Next, they lift and reposition these tissues to create smoother and tighter contours. Once the skin achieves the targeted level of firmness, the surgeon uses sutures to hold it into place, cutting away excess parts.
https://www.webmd.com/beauty/cosmetic-procedures-neck-lift
A neck lift surgery is considered minor cosmetic surgery and is performed under a general anesthetic, with most patients being allowed to go home the same day. This procedure takes up to two hours to complete; however, this can vary based on the amount of skin on the neck you want to be changed. A neck lift surgery comes with multiple benefits for both men and women.
What are the Benefits of Neck Lift?
Aside from the face, another visible sign of aging is in the neck. This is caused by the slower production of collagen, which affects the firmness and plumpness of the skin around the neck. Over time, the skin starts to sag, causing lines and wrinkles to appear. However, with the help of a qualified and experienced surgeon, you can address this problem and buy yourself more time to look younger. Some of the benefits of a neck lift include.
Tightening Underlying Muscles
The surgeon repositions your skin during a neck lift, removing excess skin and tightening the underlying muscles using sutures. Having loose and sagging skin can affect the underlying muscles, affecting your overall appearance. However, the forces are drawn after the procedure, giving your lower face and neck a smoother and more youthful appearance. A neck lift surgery doesn't slow or stop the aging process; it only helps you maintain a younger look much longer.
Reduces Excess Skin
This surgery mirrors popular facial rejuvenation procedures such as facelift in many ways, with the most popular being the removal of excess skin. The doctor removes excess skin during the process, tightening the underlying muscles. This procedure results in a smooth and well-toned appearance to the neck and lower face.
Eliminates the Appearance of Platysmal Bands
Most patients seeking a neck lift often complain about Platysmal bands, especially women. Platysmal bands are two strips of muscles that run up the front left and right sides of the neck. Over time, due to aging, these muscles become more prominent, interfering with the aesthetics of the neck. With the help of neck lift surgery, the appearance of these muscles can be reduced or eliminated to give you a smooth-looking channel.
Contours the Chin and Jawline
Aside from removing excess skin, a neck lift for men works as a contouring tool. This surgery is characterized under facial rejuvenation procedures as the surgeon employs various techniques to sculpt the lower face. You can achieve more definition and a younger look to the lower face by contouring the jawline and chin, taking you back a few years.
The Results can be Dramatic
A neck lift procedure falls under cosmetic surgeries; everyone has a specific goal they are looking to achieve. Some people may be looking for something as simple as getting rid of their wrinkles, while others may be after a more dramatic result. Due to the numerous applications of this procedure, your individual needs can be met. For example, if you want to get rid of thick bands, or double chin, a neck lift has you covered. In addition, patients with excess fatty tissue in the chin and neck areas can combine this procedure with facial rejuvenation procedures such as liposuction to remove the excess fat. This way, you can achieve a slimmer and younger look.
Keep in mind that this procedure also involves tightening the n=muscles under the skin to reduce wrinkles and laxity. It's also a good way of toning the area under the chin by removing excess skin. For dramatic results, you can choose to reduce your neck's appearance by a decade or even more.
Fewer Procedures in the Future
Most people go for cosmetic surgeries to improve their appearance at an advanced age. However, going for a neck lift during your early years can help save you the cost and time spent on numerous rejuvenation procedures when you get older. Most surgeons recommend this surgery to patients in their thirties and forties; they can avoid complete facelift procedures in their fifties. After a neck lift surgery, you will only need to go for mini or mid-facelift surgeries.
Shorter Recovery Time
A neck lift is considered minor surgery and is often carried out under a general anesthetic. However, this procedure is classified as invasive and requires a specified timeframe to heal completely. Unlike other cosmetic procedures, a neck lift doesn't take long to heal. This means those with an active lifestyle don't have to wait long before they can resume their lifestyle. In most cases, patients need only a week before they can go back to work and another three weeks before fully resume their daily routine.
Combined with other Surgeries
A neck lift surgery is used to improve the appearance of the neck and lower face. However, if you can't achieve your desired look with this procedure, the surgeon can incorporate other facial rejuvenation procedures. By combining multiple methods, you can achieve your desired goals to give you a balanced and younger look. In most cases, people opt for facelifts and neck lift procedures to add all their needs, including excess fat, loose or excess skin, and wrinkles.
Improves Confidence
Being happy with your appearance plays a massive part in determining your confidence and self-esteem. If you are unhappy with how your lower face or neck looks, then a neck lift can help fix the problem and help you feel comfortable in your skin.